Company history
The Broersen Family Story

It all started on 9th March 1951, when Jan and Rie Broersen and their three children arrived from Holland on the migrant ship Sabiac, seeking new adventure. After docking in Melbourne, they found work and lived with a bulb grower in Silvan in the Dandenong Ranges for the first six weeks in their new home country.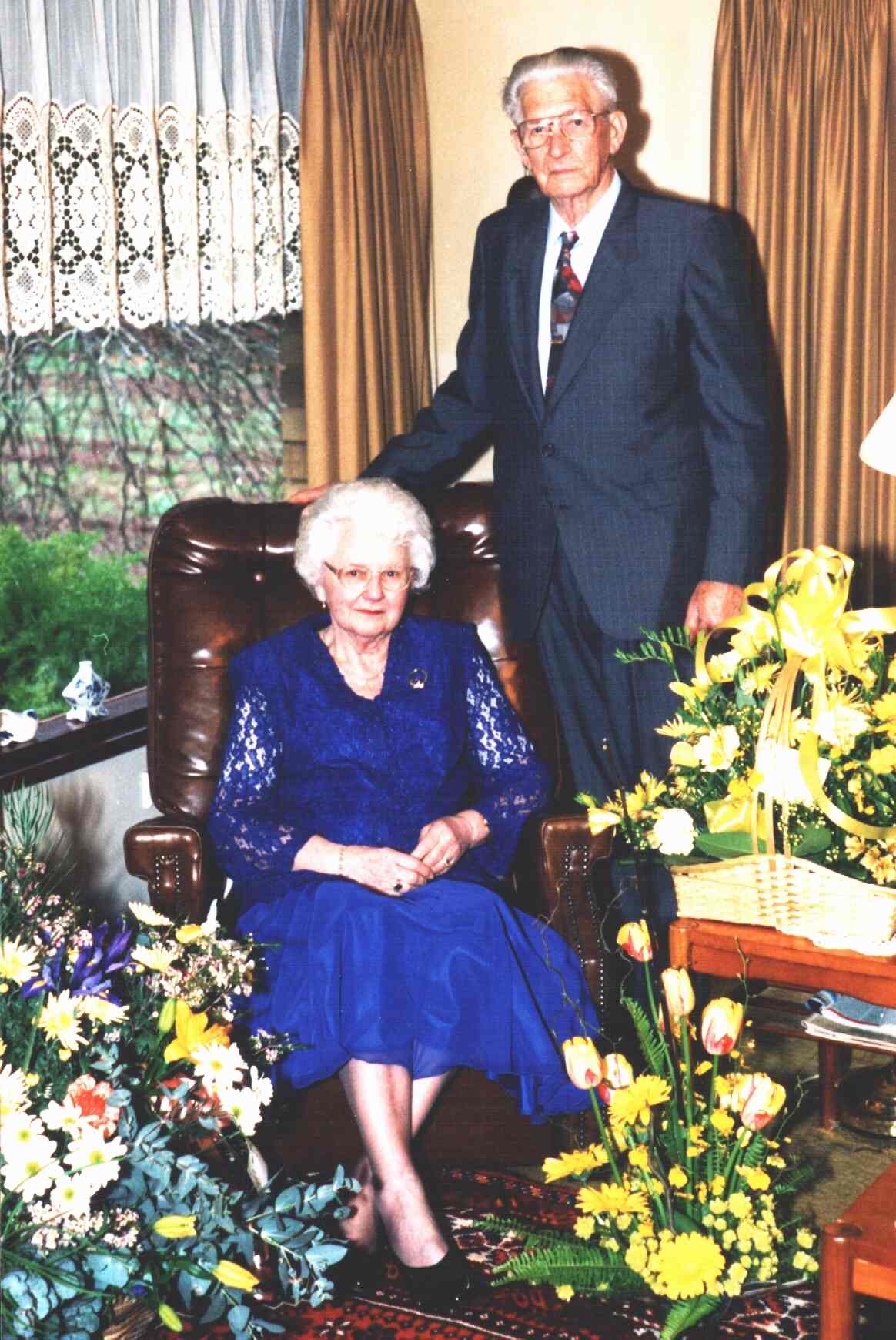 Company founders Jan (dec.) & Rie Broersen (sitting).


With them they brought a stockpile of vegetable seeds in the hope of selling them in Australia, which was Jan Broersen's original line of business in Holland. A short time later, their pre-fabricated house arrived from Europe, along with their other possessions. They purchased a property in Silvan and there the house was built.

They worked hard and very long hours. The two of them cleared trees on the property themselves with a long two-person hand saw. To remove the stumps, Jan would go to the local forestry office and ask for some gelignite. "Sure", they would say, "take a few crates"!

Jan would often travel around the outer suburbs of Melbourne, seeking home gardeners that would buy his vegetable seeds. He would stop by houses where he saw white lace curtains in the windows, knowing it was likely that Dutch or other European people resided there, and that they would purchase some of his special dutch vegetable varieties which were common in Europe. Vegetables such as kale, spinach, endive, red cabbage, savoy cabbage and witlof were rarely heard of or available in Australia back then.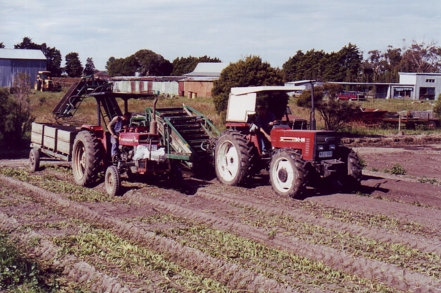 Harvesting of bulbs.
While Jan was on the road, Rie would take care of business at home, as well as tending to the children. Seeds and bulbs were advertised in a locally produced dutch language newspaper, offering a mail-order service. With this and Jan's "road" work, they quicklyestablished a loyal clientele. Things expanded quickly, they began growing more cabbages, particularly red and savoy cabbages, and also special dutch cabbage varieties bred by Jan and his brothers back in Holland. These varieties were widely used by processors for sauerkraut. It wasn't long before they started with bulbs, having imported many Tulips from Holland.

Through the 1950's, three more children were brought into the world, making a total of three sons and three daughters.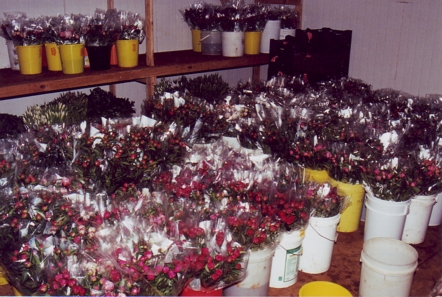 Freshly picked peony roses in our coolroom ready for distribution. Many are exported to Japan and America.



In the 1960's, while continuing to grow cabbages, they also became the biggest grower of Tulip bulbs and flowers in Australia. As the Tulips flowered, tourists would flock into the area. Our farm back then was 'open for free inspection' and eldest son Frank would be on hand to pick fresh flowers on request. The other children would walk amongst the people and flowers dressed in traditional dutch costume.

This continued until the early 1970's when it was decided to concentrate on production as demand increased. (A few years later, another dutch family continued the Tulip display tradition, although more commercialised.)

As the children entered their teens, they would regularly help out after school and during school holidays digging or planting bulbs, harvesting vegies or bunching flowers.

During the 1970's production of cabbages became less viable and was phased out in 1977. Flower and bulb production had steadily been increasing and more effort was put into this area.

In 1983, Jan and Rie Broersen handed over control of the company to their three sons, Frank, Eddie and John. This didn't mean complete retirement for the founders as they keenly continued to help out regularly. At varying stages also, the three daughters Maya, Trudy and Mary have all worked for the business and helped contribute to its success.

The recession hit in the late 1980's and early 1990's and this was a difficult and challenging time through which we were able to pull through.

On the 3rd of August 1996, Jan and Rie Broersen celebrated their 50th wedding anniversary with family and friends. Their 6 children have in turn become responsible for 14 grandchildren and 9 great grandchildren.

Bulb production steadily increased in the mid to late 1990's to the point where we now have over 17 hectares under cultivation. This had outgrown the seed section of our business by far, and in November 1998 we ceased trading in seeds to concentrate solely on bulb and flower production.

In June 2009, the retail division of our business was sold to Tesselaar Direct, who have since merged it with another of their businesses - Lake Nurseries. This business supplies home gardeners with an Australia-wide mail-order service. We continue to supply them with our products.

Our wholesale business offers the same Australia-wide service to the nursery, landscaping and cutflower trade.These changes have allowed us to focus completely on our growing operations.

The latest techniques and equipment are used for bulb production and in recent years our storage facilities have been increased with modern climate controlled store rooms to ensure our goal of producing the highest quality products possible.

Currently the company employs 10 permanent staff, including two third-generation family members – Dale and Jenny. In peak periods when temporary seasonal staff are taken on, this can increase up to 24. It hasn't been just a family affair, and we acknowledge the efforts of all the staff who have worked with us and contributed to the success of our company.

We have seen a small dutch community develop locally. Many have worked for us or other dutch pioneer families in the past and used their experience to venture out on their own. The Silvan-Monbulk area is now the largest bulb and flower growing region in the country, and our family is proud to have played a part in its development.

Of course, we wouldn't have made it this far without our loyal customers. Thank you all for your past support.

Happy growing.

The Broersen Family